Servicios de consultoría
Sustainable Mobility Plans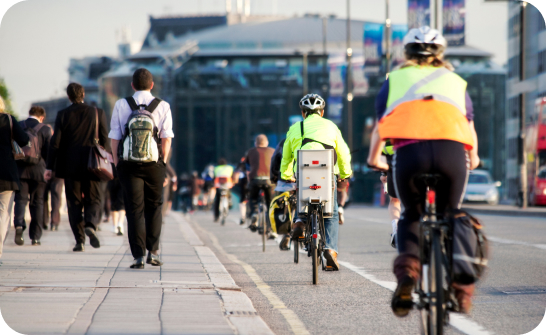 Sustainable Mobility Plans
We develop transport projects and strategies that, based on the characteristics of the territory and neighbourhood demands, collect and establish actions that articulate sustainable mobility policies to be implemented on an urban and interurban scale.
Bicycle Master Plans (BMP)
We design strategies and projects to define the conditions and criteria that should guide the full integration of the bicycle and personal mobility vehicles (PMV) in a more sustainable and safe urban mobility.
Studies and projects for the implementation of Low Emission Zones (LEZ)
We assist in carrying out the necessary guidelines to delimit, design and configure the areas where traffic and parking is restricted for polluting vehicles, which results in an improvement of air quality.
Transportation to Work Plan (TWP)
We assist companies, organizations and administrations with the development of actions aimed to encourage the use of more efficient modes of transport and reduce the negative impacts derived from daily trips to/from the workplace.